Kontakt
Telefon: 58 523 37 18
Room number: 23
Kontakt przez sekretariat
Telefon do sekretariatu:
58 523 3710
Nr pokoju: 14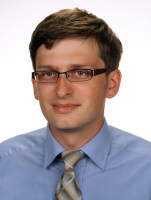 Stanowiska zajmowane w jednostkach
Post-doctoral fellow
Źródło danych:
Skład Osobowy, Fast
Zainteresowania badawcze
Publikacje
Archeologia i historia starożytnej Mezopotamii w IV i III tys. p.n.e.; kultura sumeryjska i akadyjska; łodzie i szkutnictwo w Mezopotamii; łodzie ceremonialne oraz wotywne modele łodzi; symbolika palmy daktylowej; pismo piktograficzne i klinowe.
Research interests:
Archaeology and history of ancient Mesopotamia in the Fourth and Third millennium BC; Sumerian and Akkadian culture; boats and boatbuilding in Mesopotamia; ceremonial boats and votive boat models; the boat symbolism; pictographic and cuneiform writing.
Last modified:
2021, October 7 - 1:45am
Post date:
2013, July 11 - 3:00pm
---
–
Dane pobrane z Portalu Nauczyciela