You are here
Home
» dr hab. Iwona Sakowicz-Tebinka, prof. UG
dr hab. Iwona Sakowicz-Tebinka, prof. UG
Kontakt
Telefon: +48 58 523 21 93
Room number: 2.43
Kontakt przez sekretariat
Telefon do sekretariatu:
+48 58 523 21 47
Nr pokoju: 2.26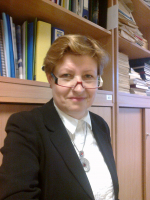 Stanowiska zajmowane w jednostkach
Associate Professor
Źródło danych:
Skład Osobowy, Panel Nauczyciela, Fast
Zainteresowania badawcze
Publikacje
Historia XIX w., pisarstwo podróżnicze, pielgrzymki XIX w., Rosja i Wielka Brytania, historia prasy.
Research interests:
History of the 19th c.; travel writing; pilgrimages of the 19th c.; Russia and Great Britain; history of the press.
Wybrane publikacje:
Wybrane publikacje/ selected publications:
Russian Political System in British Travelogues and Press, w: The Central and the Peripheral: Studies in Literature and Culture, ed. Paweł Schreiber et al., Cambridge Scholars Publishing, Newcastle upon Tyne 2013.
Poland. Tragedy and Heroism in the face of Powerful Neighbours, w: Histories of Nations: How Their Identities Were Forged, ed. P. Furtado, Thames & Hudson, London 2012.
Imperium barbarzyńców. Rosja Aleksandra II w brytyjskich opiniach prasowych, Wydawnictwo UG, Gdańsk 2010, ss. 372.
Russia and the Russians. Opinions of the British press during the reign of Alexander II (dailies and weeklies), "Journal of European Studies" 2005, no. 3, s. 271-282.
Między autokracją a rewolucją. Liberalizm Konstantego Kawielina w okresie Wielkich Reform, Wydawnictwo UG, Gdańsk 1999, ss. 181.
Więcej publikacji/ for more publications see: http://expertus.bg.univ.gda.pl/
Last modified:
2021, July 7 - 11:45am
Post date:
2013, July 11 - 3:00pm
---
–
Dane pobrane z Portalu Nauczyciela