Kontakt
Telefon: 58 523 3719
Room number: 24
Kontakt przez sekretariat
Telefon do sekretariatu:
58 523 3710
Nr pokoju: 14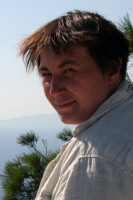 Stanowiska zajmowane w jednostkach
Post-doctoral fellow
Źródło danych:
Skład Osobowy, Fast, Panel Nauczyciela
Zainteresowania badawcze
Publikacje
archeologia historyczna; archeologia miejska (Gdańsk); archeologia wybrzeży i krajobraz morski; handel w strefie bałtyckiej (XVI-XIX wiek); archeologia XIX i XX wieku; ceramika - analizy, kultura materialna, metody badań miejskich; archeologia społeczna
Research interests:
historical archaeology, urban archaeology (Gdańsk), costal archaeology and maritime landscape, trade in the Baltic area (16th-19th centuries), archaeology of recent times (19th-20th century), ceramic analyses, material culture studies, urban excavation - methodology, public archaeology
Wybrane publikacje:
Wybrane publikacje/ selected publications:
Brytyjskie wyroby ceramiczne na gdańskim rynku produktów w XVIII i XIX wieku, Archaeologia Historica Polona nr 21, Toruń 2013, s. 321-352.
Ceramics from 18th century Dutch and English shipwrecks. A survey of Southern Baltic Sea, Poland, ACUA Underwater Archaeology Proceedings, Red: Breen C. and Forsythe W., Ulster 2013, s. 65-73.
Hiszpańsko-mauretańskie naczynia ceramiczne, a status ekonomiczny ich posiadaczy i użytkowników. Nowe źródła z badań archeologicznych w Gdańsku, XVII Sesja Pomorzoznawcza, vol. 2, od późnego średniowiecza do czasów nowożytnych, red. Paner H., Fudziński M., Gdańsk 2013, s. 429-446
Ślady osadnictwa późnośredniowiecznego i nowożytnego w rejonie Jeziora Powidzkiego w świetle źródeł archeologicznych, red. A. Pydyn, Archeologia Jeziora Powidzkiego, Toruń 2010, s. 145-176.
Asortyment naczyń ceramicznych, red. W. Ossowski, [w:] Wrak statku Generał Carleton, 1785, Tom I, Badania Archeologiczne Centralnego Muzeum Morskiego w Gdańsku, Gdańsk 2008, s. 223-234.
Last modified:
2021, May 1 - 1:45am
Post date:
2013, July 11 - 2:59pm
---
–
Dane pobrane z Portalu Nauczyciela